What do chocolate, shampoo, pizza, and baby orangutans all have in common?
Turns out, orangutans are connected to our lives through the popularity of palm oil. And here's the rub: there are palm oil plantations gobbling up the rain forests that orangutan's call home.
But there is a positive twist! This is one global problem that we can influence quite easily as individuals!
In today's Ever Widening Circles article, we will sort that out and be empowered to do a little something about this problem. There are ways to grow palm oil without damaging precious places, and like similar consumer movements, we can influence the system by voting at the cash register.
This would be a great process to share with your children, grandchildren, or teachers. Do some fact finding on your next trip to the grocery store, and you'll find that palm oil is now ubiquitous throughout our food system and personal care products. Palm oil can be found in everything from ice cream to pizza dough, lipstick to detergent, and instant noodles to biodiesel fuel. Who knew!?
There is a "Palm Oil Safe" symbol (like the Dolphin Safe symbol) that we can look for on product labels.
But I'm jumping ahead. Let's dive into this topic with a guide who can explain all this in the most extraordinary way.
We first met professional photographer Jami Tarris about two years ago, when we discovered her wondrous photography. We were inspired by her wildlife images, but had no idea that she would become a great teacher to the Ever Widening Circles (EWC) community. I've gotten to know Jami and her husband Theo Allofs quite well since then, and feel confident in saying they both seem poised to make some real change in the world through their breathtaking artistry and insights.
Jami volunteered to be our EWC "guest writer" for this article, and her photography will fill you with wonder and possibility. Jami's work on this topic was at the Orangutan Orphanage in Sumatra, who works to raise displaced orangutans until they're able to go back into the wild and thrive on their own.
Jami will introduce us to her little friends living there, and best of all: teach us tricks to become savvier when we shop, thereby decreasing the demand for Palm Oil that is not produced responsibly.
I was amazed to learn that it's rather easy to disrupt the connection between orangutans and palm oil, so let's get to it!
Here's Jami Tarris telling you the story…
---
Just before Christmas, I arrived back home from a month long trip to Sumatra and Borneo. As soon as I walked in the door (and kissed my husband) I told him that I decided I was going to adopt a baby – orangutan.
I went to Sumatra and Borneo to photograph the devastation caused by the (still burning at the time) fires that were deliberately set by palm oil plantations. Many are unaware that palm oil is a growing industry. Palm oil is replacing canola, sunflower, vegetable, and other oils in cooking and household products. Palm oil is a HUGE cash industry in developing countries like Indonesia and Malaysia. It is so profitable that oil palms are now being grown in Brazil, Colombia, and several other South American and African countries.
You may be asking why this is such a bad thing. It is bad for one simple reason: it is destroying pristine natural forests that are home to so many animals, including orangutans, leaving babies orphaned.
Before they incinerate the forests (illegally by the way) in order to plant oil palms, they first have to cut the trees down. This is called "slash and burn" clearing. Too often there are still orangutans sitting up in the trees and the palm oil workers will cut the tree down, killing the adult orangutans and selling the babies to the illegal pet trade. Owning an orangutan in Asia contributes significantly to social status.
I know it's hard to hear on EWC, where we usually read about hope and possibility. But there is some promise in this situation, and I'd like to tell you more about some extraordinary people and how you and I can help.
Here's a wonderful piece by NBC that will give you all the insights you need to enjoy the rest of today's empowering EWC article:
When I went to Sumatra, I wanted to photograph the fires, the palm oil industry, and of course, the orangutans. But as soon as I arrived, Dr. Ian Singleton, Director of the Sumatran Orangutan Conservation Program (SOCP) immediately sent me to SOCP's quarantine Care Center in Medan, Sumatra.
He told me that two days before my plane landed, three infant orangutans were in the back seat of a car being driven down to southern Sumatra by two men who were going to illegally sell them as pets. A twist of fate occurred when the driver of the car holding the orangutan infants ran a red light and hit a car at the intersection. Two policemen happened to be sitting at the intersection and when they went up to the scene of the accident they discovered that there were three plastic cages in the back seat of one of the cars containing tiny orangutan babies.
Ian's rescue team drove 10 hours south to pick up these three baby orangutan orphans. His rescue team is "on call" 24 hours a day, seven days a week. And now I was going to a quarantine center where they were being monitored, fed and cared for…with my camera in hand.
After I put on a face mask on, what I found was most unexpected. I found three feisty, happy, sweet, playful, and naughty babies in diapers! They were so cute and fun to photograph that I could barely tear myself away from them in order to photograph the other 49 orphans currently at the care center.
The loving keepers at SOCP's care center are with these orphans around the clock. They know that infant orangutans are with their mothers 24 hours a day and need constant attention.
And so I spent many hours in the nursery watching some of the playful antics of these three that were SO much like those of human babies.
This might be a great place for some interesting Orangutan Facts:
Humans share 97% of the same DNA as orangutans.
They are among the most intelligent primates and have been studied for their extensive learning abilities. They can use a variety of sophisticated tools and they have even been taught to communicate to humans using sign language.
They are susceptible to human diseases. Because they live in the forest, they have not been exposed to bacteria and virus spread by humans. They don't have the antibodies to protect them from a common cold which can kill an orangutan.
Orangutans can live up to 40 to 50 years of age in the wild.
Females do not reproduce until they are at least 10 years old and then they can give birth every 5 years. But usually, there is a longer time interval between offspring. An orangutan female may give birth every 5 – 10 years and then to only one infant and on rare occasion twins. This combined with the long period of time between babies, means that orangutans have an extraordinarily low rate of reproduction. Like humans, their gestation period is about 9 months
What I saw and photographed: They are in diapers! They hit each other. They scream. They play bite. They want to be held. They love toys.
They love to climb around and grab anything colorful or shiny. They get mad. They have temper tantrums.
They laugh and giggle when they are tickled.
After spending time with these three little ones, I spent days at the center photographing the orphans who are a bit older. They are kept in cages where they are safe. They are matched up with each other – and are not alone since normally they would still be with their mothers.
Twice a day they are carried out to a play area outside where they can climb, play and have fun together.
Every orphan in SOCP's care center (as well as Orangutan Foundation International) will be released back into the wild when they are ready.
A few older males cannot be – they were either born in captivity or are too dangerous to release.
Males are territorial, and if there isn't a suitable territory to release them, it would be too dangerous for their survival.
Now, we just need to hope that there is still enough forest left to release these orangutans.
We can make a difference here if we just tell everyone and anyone who will listen to be aware of products that contain palm oil – and stop buying them ourselves. Just check ingredients before you buy. Your buying power – actually has the power to save lives.
~ Jami Tarris
---
Lovely work there, Jami! We can't thank you enough for sharing this story with the world.
Now here's how you and I can save the day!
Fortunately, there are some solid, easy steps we can take to influence this crisis a little.
First, let's get really familiar with how Palm Oil finds its way into all our lives. Maybe, like you, I had heard of palm oil, but frankly never thought much about it. Turns out it's in 50% of the consumer products in a typical grocery store.
Here's an infographic put together by the World Wildlife Fund:
Eye-opening, huh? And maybe a little overwhelming.
Can we find our way out of the weeds here, or is the problem too big?
Turns out we can choose to simply read labels and purchase products that do not contain palm oil…
or better yet, support the farmers who are producing palm oil in sustainable ways!
Take a look at this huge ray of hope…
Good to know!
If you'd like to read a superb article that lays out where this issue stands, Take a look at this article from Triple Pundit called The Messy Business of Sustainable Palm Oil.
Here's a really important, yet counter-intuitive part of the equation:
We don't have to give up products containing palm oil!
It can be produced in a responsible manner that respects the environment and the communities where it is commonly grown. So, in order to support these people and their practices, all we have to do is simply look for the Palm logo!
Here are the two "PALM LOGO" labels that work just like the Dolphin Safe tuna labels. They are easy to spot at a glance: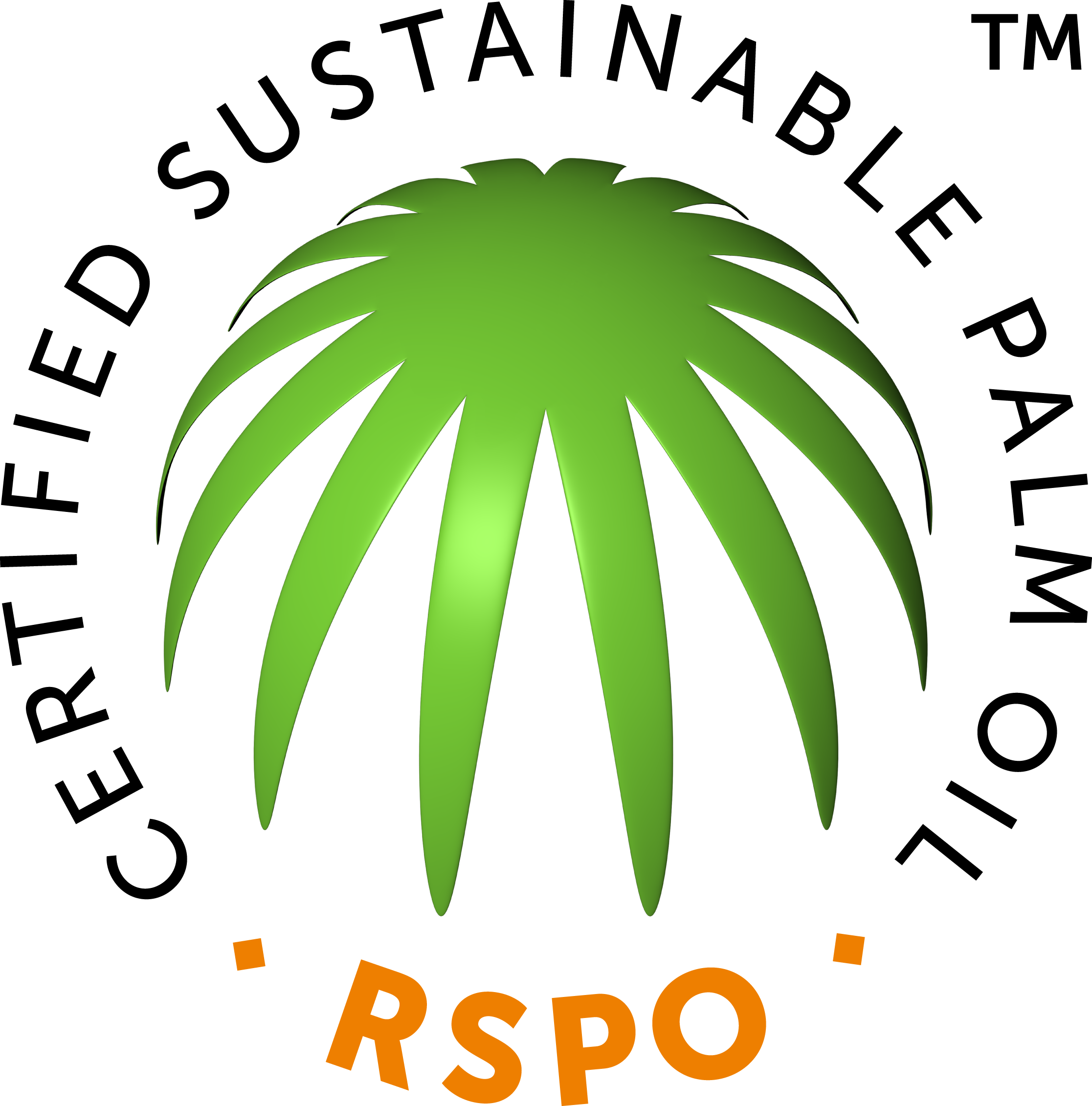 Look for the RSPO label to ensure you purchase products made with certified sustainable palm oil.
This label gives you the confidence that the palm oil was produced in a socially and environmentally responsible way.

Can't find the RSPO label? Look for the Green Palm label! This label indicates products in support of the transition to certified palm oil.
Proceeds from Green Palm certificates help growers fund the transition to sustainable palm oil.
Thank you to both Jami and the Sumatran Orangutan Conservation Project for showing us how ordinary people can do extraordinary things!
Here are some remaining words from Jami Tarris:
Both SOCP and OFI are in dire need of donations to pay for the care and shelter of the orphans. One such way to donate is to adopt one of the orphans.

Both organizations let you choose where your money actually goes and I have seen for myself that every dollar goes to the animals – and not to administration costs like so many of the other larger organizations.

These two foundations are managed by people who are dedicating every waking hour to saving orangutans and other animals in these forests. You can make a difference too!
SOCP: http://www.sumatranorangutan.org/
OFI: https://orangutan.org/

If these small red hairy apes have touched your heart, then please look for my next article about something a bit bigger, less hairy and long in the tooth!
It's such a joy to work with people like Jami, who are bringing us steps closer to a better world. Click here to explore more of Jami's amazing photography! 

Oh, and Theo, Jami's husband, has also written a stunning piece! Ever been charged by a rhino? No? Well, he has, and here's the story:
Again, share this article with some young people or a teacher, and encourage them to use their influence. I've noticed the digital world is nurturing a new kind of empowered consumer. They use technology to "swarm" problems with the most remarkable outcomes.
Stay open, hopeful and curious!
~ Dr. Lynda Ulrich
Want to see more?
Scroll down to find articles related to this one, or head to our homepage to check out our latest articles, circles, and archives! Even better, subscribe to receive the latest from EWC right to your inbox!
Discover more amazing animals by clicking the button below!